Brotherhood
Brotherhood at Congregation Beth Emeth
Brotherhood strives to enhance our congregational community, by enabling men to find identity, involvement and inspiration in their lives through greater participation in the Beth Emeth community. Our Children are our future. Your Brotherhood enhances the jewish experience for children of our Congregants by:
• Organizing and Cooking for the Religious School opening day picnic
• Building the Congregational Sukkah
• Cooking, Serving and Cleaning up Family Friendly 1st Friday Dinners
• Donating Funds for special Religious school Projects.
• Recognizing the graduating HS Senior most involved in the CBE Religious School with a Scholarship Award.
• Recognizing the efforts of our b'nai mitzvah and confirmation students with gifts from the congregation.
• Donating funds to CBEYG. • Providing Opportunities for religious school students attend special programs.
• Providing scholarship Funds for children to attend jewish overnight summer camp.
Brotherhood members volunteer their time to the Congregational Community and Greater Albany Jewish Community; • Helping to keep the memory of the holocaust alive by purchasing and distributing Yom HaShoah Candles to the greater Jewish community with help from other temples mens clubs. • Contributing to the success of Purim Palooza, Summer Cuisine, The Renassiance Group Kickoff Barbeque, creating Beth Emeth Maple Syrup, CBE/SAAJCC Senior Health Fair and the Soup Kitchen and • Whether it is a 1st Friday dinner, the Berk Lecture Series, Welcome Diner for the Bishop of Upstate NY or the Channakuh Latkes & Brisket dinner, All are open to Beth Emeth Members and the Greater Jewish Community at a very reasonable cost because your brotherhood is there to provide manpower and expertise make these events a success.
Have you sent in your brotherhood membership yet?
CLICK HERE to join Brotherhood online
CLICK HERE for 2020-21 Brotherhood's Membership Form
CLICK HERE for the History of Brotherhood
Every man who is a member of Congregation Beth Emeth is welcome to be a member of Brotherhood. We encourage you to continue the tradition of l'dor vador.
If you have any questions, please contact any of the following officers:
Barry Davis, Co-President 518 424-9665 bzdavis@gmail.com
Michael Horelick, Membership 518 452-1412 mhoreli1@nycap.rr.com
Jay Hurewitz, Treasurer 518 439-7226 jayhurewitz@hotmail.com
Joe Bierman, Secretary 518 248-2869 j.bierman@prodigy.net
From the kitchen of our esteemed Brotherhood Chef -- Rob Dorkin! CLICK HERE for some favorite recipes + CLICK HERE for Rob's delicious kugel recipe.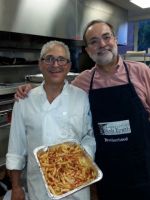 Rob Dorkin & Mike Barnas showing Their Recent Dinner Creation for First Friday Dinner
Sun, June 26 2022
27 Sivan 5782
Sun, June 26 2022 27 Sivan 5782