CBE's Weekly Blog
Happy Thanksgiving
11/16/2023 03:49:26 PM
| | |
| --- | --- |
| Author | |
| Date Added | |
| Automatically create summary | |
| Summary | |
This Week at Beth Emeth
(November 17- 23)
(All underlined items below are clickable for more information)
Please see the corrected time for our Chanukah Dinner below.
Dinner will be at 6:30 pm (following the 5:30 pm service) Cost is $21 per person 13 and older - advanced reservations required
Friday, November 17
Erev Shabbat Service - 5:30 pm
Join us in-person or live-stream for a warm, meaningful Erev Shabbat Service.

Saturday, November 18 at 9:30 am
Torah Study with Rabbinic Intern, Spencer Mandell
In Person and via Zoom. Click the underlined link above,
and if you need a password, please use CBE.

Saturday, November 18 at 10:45 am
Bat Mitzvah of Bella Grundman

Sunday, November 19
9:30 am Sisterhood Chanukah Bazaar
 Need candles? Need a new dreidel? Need socks? Bring your gelt to buy some gelt!
The Bazaar will be open in person. You may also puchase some of the items on-line to pick up during Bazaar hours:
● Sunday, November 19 from 9:30 am - noon                   
● Wednesday, November 29 from 4:30 pm- 6:00 pm         
● Sunday, December 3 from 9:30 am - noon
● Wednesday, December 6 from 4:30 pm - 6:00 p
Do you have some time to help Sisterhood with the Bazaar? 
Packing up orders or manning the table.   Sign Up Here.

Sunday, November 19 at 11:00 am
Bagels and Berlin
Join Rabbi Weitzman in the Larner Library to learn about the trip to Berlin, ask questions and enjoy some bagels!

Sunday, November 19 at 4:00 pm
Anitsemitism and College Students Zoom Meeting
An invitation  has been sent to students. This generation of Beth Emeth members is living on the front line, in a world of antisemitism. CBE will be creating a space for college students to share, learn and reflect on the current climate at their respective campuses. If you did not receive an email, please click here submit your student's email address.
Monday, November 13
Volunteer Choir
Love to sing? Please join Cantor Short in the Chapel
from 7:00 - 8:15 pm, to learn the music for our 
upcoming Chanukah Celebration on December 8.

Wednesday, November 22
Office Closes at 1:00 pm

Thursday, November 23
Office Closed for Thanksgiving

Friday, November 24
Office Closed for Thanksgiving

In Memoriam
We acknowledge with profound sadness,
the death of our member
Helene Patlen Adler Gordon
Mother of Mark (Marcy) Adler and Sandra (David) Freeman

We extend sympathy to those in our congregation who have lost a loved one 
Robert Avrach
Brother of Donna (Lee) Rosen
Israel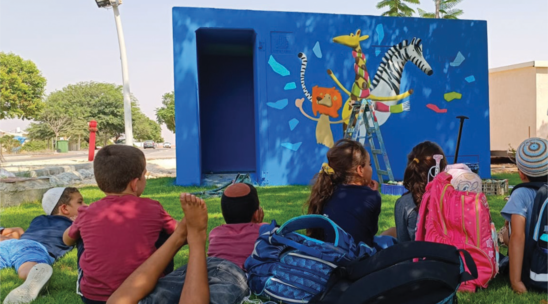 Congregation Beth Emeth is helping the cause of beautifying bomb shelters in Israel through our new Israel Shelter Fund.

We aim to fund the beautification of one bomb shelter which costs $10,000. Imagine taking a child to a bomb shelter.
As difficult as it is, a little beauty can only help.

Both Rabbi Weitzman and Cantor Short have generously started this campaign off
through their Discretionary Funds.


If you are interested in joining a Beth Emeth group to fight antisemetism. Contact: Andrea McNellis at x 236 or AMcNellis@BethEmethAlbany.org  
Click here ​​​​​​​ for information on 
JCC Applebaum & Bellin Awards
Sidney Albert Albany Jewish Community Center
prestigious youth awards
Due end of December
 Coming Soon

Sisterhood/ Brotherhood Brunch
December 3
10:00 am - noon
Join us for a musical journey through the 1970's through the songs of several Jewish songwriters, such as Paul Simon, Carole King, Carly Simon, and Randy Newman. You will hear a range of music and themes from that era, and likely recognize some familiar tunes from the 70's catalogue. You will also hear lesser-known songs that, though written in the 1970's, have resonance and relevance today.  The songs will be performed by members of the "Band of Gold" Carmen Lookshire, Tony Schettino, and Garry Sanders.

This event is free as a thank you to all current Sisterhood and Brotherhood members. Please click here to register for the Brunch.
Reservations are required. 




December 3
There is no better way feeling than to know you are helping others.
We are looking for volunteers at the Soup Kitchen!
Many of our congregants will be at the
Sisterhood/ Brotherhood Membership Brunch. 
If you are free to help out, please do!
We assure you, you will get out of it more than you put in.





December 8
Chanukah Service & Dinner
The amazing Alan Goodis, our Artist in Residence, will be perfoming at our Chanukah Ruach Shabbat along with our Junior and Volunteer Choirs.
Service begins at 5:30 pm
Following, at 6:30 pm please join us for a festive Chanukah meal of
Brotherhood's delicious Brisket, Latkes and more!
Dinner is $21 for adults 13 and over.
Regisration for Dinner required.

Special thanks to the Kivort family for underwriting the Chanukah Celebration.
The Chanukah Dinner in memory of Mark Shuket.



We will be beginning a monthly class in January for those looking to learn 
Jewish Basics. 
If you might be interested, please let us know.

Congregation Beth Emeth
100 Academy Road
Albany, NY 12208
{{shulcloud_footer_left}}
{{shulcloud_footer_right}}
Tue, December 5 2023
22 Kislev 5784
Z'manim
Alot Hashachar
5:39am
Earliest Tallit
6:13am
Netz (Sunrise)
7:09am
Latest Shema
9:27am
Zman Tefillah
10:14am
Chatzot (Midday)
11:46am
Mincha Gedola
12:09pm
Mincha Ketana
2:27pm
Plag HaMincha
3:24pm
Shkiah (Sunset)
4:22pm
Tzeit Hakochavim
5:08pm
More >>
Tue, December 5 2023 22 Kislev 5784